Oral cancer is as common as leukemia and kills more Americans each year than either skin or cervical cancer. Patients with oral cancer have a poor prognosis, and the 5-year survival rate of approximately 50% has remained unchanged for the past 50 years. Oral cancer rates are increasing in younger patients due to human papilloma virus. Perhaps the single most important reason for this is the fact that oral cancers continue to be diagnosed in advanced stages. Research studies have repeatedly demonstrated that the survival rate for oral cancer patients increases dramatically when the diagnosis is established in early stages.
Oral Cancer Self Exam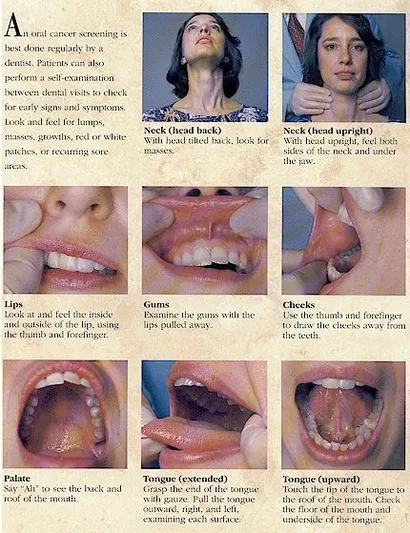 Any ulceration in the mouth which does not heal in two weeks should be checked by you dentist ASAP. Early oral cancer is rarely ulcerated, however, and appears more like the cancerous lesions below. Any area in your mouth that looks like these photos needs to be brought to the attention of your dentist or physician!