One of the more exciting uses of dental lasers is in their application in periodontal disease. For years now dentists on the leading edge of periodontal care have been devising ways to incorporate these excellent tools into their patients care. Our office has been using lasers as an adjunct to our periodontal program since 2004. The recent addition of the dual laser Lares Powerlase has added an exciting new dimension to our periodontal care. Lasers are characterized by their wavelength; each type of laser having certain clinical advantages and disadvantages.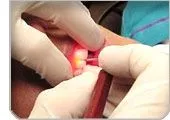 Laser periodontal protocols take advantage of each machines characteristics but often are lacking due to the weakness inherent in each system. An advantage of our current laser is it has both wavelengths popular in gum disease care allowing us to take advantage of all the abilities of each device without the limitations of a single wavelength. We combine this with modern technology for genetic and bite analysis to result in a thorough, cost effective protocol.
For the patient in need of periodontal care this means....
Laser surgery for periodontal disease in fewer appointments
Personalized antimicrobial therapy
No scalpels
No sutures
Greatly reduced post operative pain
More rapid healing
Less invasive procedures
Laser disinfection of diseased periodontal pockets
Laser and piezoelectric assisted tartar removal (no more scraping!)
Less expensive than traditional surgery
Our protocol is very thorough including the following cutting edge tools
Computer assisted bite analysis with the TScan III
DNA probe tests for your specific bacteria

A personalized antimicrobial regimen of mouthwash and locally delivered/systemic antibiotics is devised from a DNA test of the specific species of bacteria found in your periodontal disease sites

Genetic Susceptibility Test

For the high risk patient a genetic test for a specific enzyme defect is advised to help properly manage more involved cases. This genetic test is from a simple saliva test


Dual wavelength laser periodontal surgery

Er:Yag laser is used for disinfection, safe tartar removal below the gum line, biostimulation, and root cleansing and preparation for improved healing
Nd:Yag laser is used for minimally invasive surgical approach, disinfection, fibrin clot formation, and biostimulation