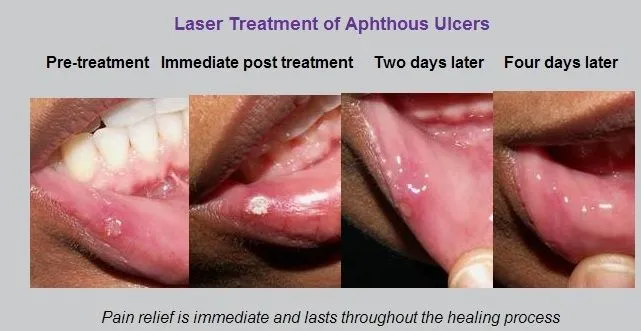 Oral irritations such as traumatic ulcers, canker sores, and cold sores can be effectively treated with combined laser therapy using both the Nd:YAG and Er:YAG lasers. The treatment takes about five minutes and is comfortable to undergo. The process is very simple..
Step 1 - A minute or two of low level laser therapy using the Nd:YAG laser. The patient experiences a warm sensation that is not painful at all. This laser has the ability to disinfect the sore, hasten healing, reduce inflammation, and relieve pain through a process known as "biostimulation".
Step 2 - A laser "band aid" is applied using the Er:YAG laser. This step effectively seals the nerve endings reducing the discomfort immediately. This laser also has biostimulative and disinfecting properties. This step also induces healing through the stimulaton of new collagen synthesis.
The great majority of patients recieving this treatment get an immediate reduction in pain followed by a faster than usual healing period. Of course all such lesions treated in our office are diagnosed and other management medications and advice are offered.
For more comprehensive information on oral ulcers and their causes visit this website's page on the issue.
Frequently Asked Questions.
Do I have to be a regular patient of the Baltimore Center for Laser Dentistry to get these treatments?
No, not at all. We welcome anyone seeking relief from these troublesome problems. You will be charged our standard limited exam fee on your first visit in addition to the treatment fee. All future treatments you will only be charged the treatment fee no matter where you recieve your regular dental care.
Sounds great, but what's the fee?
$42 is all. Payment is due at time of service and to help keep them so affordable we do not submit insurance claims. First time patients who are not already in the practice will be charged the standard limited evaluation fee of $95 on their first visit for proper diagnosis, counseling, and medication management of their condition.