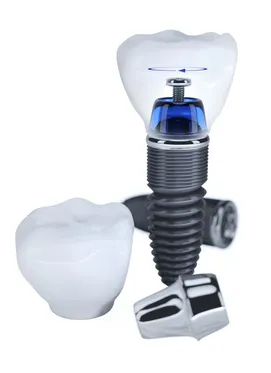 We offer a full range of dental implant services at The Baltimore Center for Laser Dentistry. Everything from the extraction, bone graft, implant placement, and implant restoration is kept in house. This continuity of care allows for a more seamless and less expensive implant process. As with all dental procedures referral may be needed for very complex cases.
Dental implants are a permanent and appealing solution to replace missing or extracted teeth. They are better than other alternatives like bridges because no additional teeth need to be altered to place the new tooth. Implants are most useful when replacing single teeth, short span bridges, and as an anchor for removable dentures.
The entire implant process is performed over the course of a few months. The first part of the process is to install the implant into the jaw bone oncce the extraction site and bone graft (if needed) heal. Multiple implants can be placed at once if necessary. A titanium healing cap is placed and this will remain until the implant is restored.
The implant is allowed about 3-6 months to heal, and during this time the jaw bone will form around the implant in a process called osseointegration. During this healing time you may have temporary crowns installed so that you can eat and speak normally and maintain a proper aesthetic appearance for your smile.
After the implant has healed it is time to restore the implant. We digitally scan the implant and the information is emailed to the dental laboratory. There the lab will digitally design your restoration using the latest imaging and CAD-CAM technologies. Your smile will look just like it used to, and after a short period of getting used to the implant it will feel just like one of your own teeth.