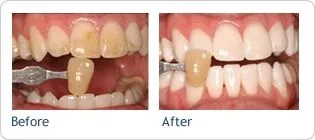 We are proud to have become a KöR Whitening Deep Bleaching™ System provider.We have provided teeth whitening services for many years in our office but have never been able to find a system that significantly whitens every patients teeth. Many patients did well with various in office and home based systems, but we found some cases just did not whiten as much as we would hope.Finally we have found a system that gets great results consistently with minmal sensitivity.
Developed by internationally renowned cosmetic dentist and bleaching expert Dr. Rod Kurthy, the KöR Whitening Deep Bleaching™ System is used by thousands of dentists worldwide. It is considered to be the most reliable and effective bleaching system ever developed. So, if you're too embarrassed to smile, have dark-stained teeth, or just simply want a whiter smile, the superiority of KöR Whitening is just what you need.
Whitening consultations are always free of charge - Call 410-789-4999
If you would like more information on the KöR Whitening Deep Bleaching™ System check out their excellent website by clicking here.