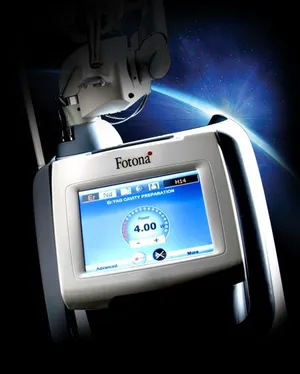 Dr. Pohlhaus has been performing laser dentistry since 2004. Our office has a Fotona LightWalker AT dental laser. This versatile device performs a host of both tooth and soft tissue procedures, often times with no need for numbing. It contains both an ER:Yag and Nd:Yag laser. This laser lacks the heat and vibration of the dental drill so many fillings can be done without getting a needle. For soft tissue procedures it often eliminates the need for suturing and healing is much faster due to wound sterilization and the atraumatic effect of the laser on surrounding tissues.
We also use lasers to diagnose cavities. The Diagnodent machine uses laser fluorescence to find hidden decay in teeth at the earliest stages. Small lesions are found much sooner than if traditional instrument methods are used allowing for much less invasive fillings. Decay can also be identified so early that it can be reversed through hygiene, diet, and fluoride measures such that it may never need a filling. The CariVu device uses laser imaging to help detect early decay between the teeth.
Advantages dental lasers include.......
Often no drill or needle for fillings
Early tooth decay detection
No needle for many soft tissue procedures
Increased bond strength for fillings
Reduced post op sensitivity with fillings
Thorough disinfection of tooth prior to filling placement
Treat kids with no needle or drill
More rapid healing and reduced pain after soft tissue procedures
Drug free cold sore and aphthous ulcer treatments with immediate pain relief and healing within two to three days
Excellent adjunct to crown and bridge work for improved gingival health and more accurate impression
A number of procedures can be performed including......
All classes of dental fillings. It's only limitation is that it can not remove old silver amalgam.
Laser periodontal surgery: no scalpels, sutures, or post operative pain
Laser assisted extractions - minimally invasive approach with less postoperative pain, infections, or dry sockets
NightLase snoring and sleep apnea treatment
SmoothLase treatment for smoothing of wrinkles around the mouth and nasal area
Smile improvements, i.e. gum sculpting that lengthens teeth due to oversized gingiva
Gingivectomy, gingivoplasty, crown lengthening, and other gum corrections
Root canals using the innovative PIPS procedure (Photon Induced Photoacoustic Streaming)
Removal of oral lesions such as fibromas or pappilomas, usually with topical anesthesia only
Excisional and incisional biopsies
Frenectomy ("tongue-tie" release, orthodontic or periodontal indications) with minimal anesthesia and no sutures
Pediatric procedures. The lack of needles or drills is a huge plus for kids.
Cold sore treatments
Apthous Ulcer ("canker sore" ) treatments
Treatment of minor mouth and gum irritations
The video below is of a cavity being treated with no needle or drill.

Frequently Asked Questions
Can you really do fillings without numbing?
Yes. The majority of fillings are done with no local anesthesia.
What does it feel like to have the laser prepare my tooth?
Many patients feel little or nothing at all. Some patients report they feel the cold of the water spray on the tooth, but do not find it uncomfortable. Some teeth become mildly sensitive to the laser once most of the cavity is gone, but patients find this tolerable and preferable to getting a needle.
When do you still need to numb someone?
Some teeth are more sensitive than others and the patient determines if they want to get numb at any point in the procedure. The high speed handpiece is needed when old silver fillings need to be removed and most of the time we will numb someone when this is needed. Other times it is the doctor's judgment that the patient might be more comfortable with anesthesia and he will recommend it.
Do you ever use a drill for fillings?
Sometimes the doctor needs to us a low speed handpiece to gently remove the decay from the tooth after the initial laser preparation. This is done with special ceramic burs that only remove decayed tooth structure. Most patients find this too be as comfortable as the laser. This is not the high speed drill that most people associate with fillings being done; the laser replaces this step.
What about kids?
Kids do great. We have experienced very little discomfort when working on primary teeth. This makes for a much less traumatic filling experience for most children. Also, lots of kids think lasers are pretty cool.
Can you do crowns with the laser?
The actual crown preparation is done with the high speed handpiece. However, the laser is used during this procedure if any filling material is placed, to help get a better impression, and to comfortably perform any gum surgery needed during the procedure.
Can the laser be used for gum surgery?
Yes. Both lasers we have are used for a variety of gum procedures. We use no scalpels and rarely need to place a suture. The lasers are very kind to the tissue so post operative discomfort is greatly reduced. Patients who have experienced traditional gum surgery are pleasantly surprised about the lack of post operative pain.
Do laser procedures cost more? Will insurance pay for them?
The gains in efficiency the of the laser allow us to charge fees that are the same as traditional techniques, and in some cases less such as some gum surgeries. The procedures are the same as done with drills, scalpels, and the like. It is how they are done that differs, therefore all procedures are submitted to insurance using traditional coding. If a particular procedure is covered under your plan it makes no difference whether a laser or a drill is used.